Savannah Ghost Stories, History  & Legends
---
Savannah Ghost Stories
We got em! You can't hardly walk down the street at night without feeling like "something" is watching you. Many a night I have been standing out in front of one of Savannah's haunted sites while on a ghost tour and a local resident will walk by and tell us about the "ghost" in their house.
One of my most "chilling" personal experiences was last fall, late at night, while walking back to my car. The sea fog had rolled in, blanketing the city. As I walked south on Abercorn Street past Colonial Park cemetery I heard boot steps with heel plates, like a civil war soldier would wear, coming up behind me. My "situational awareness" kicked in and I looked over my shoulder to see how close this other person was to me and if they were gaining on me.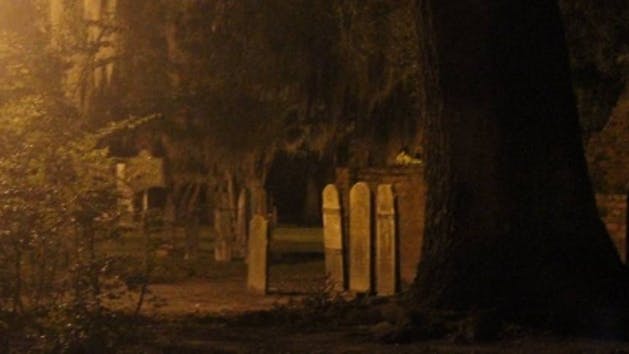 In any fog you can usually see a few yards around you. I could not see anyone out to a distance of at least 25 feet, but the footsteps were gaining on me. I picked up my pace and turned a corner, and backed up against a wall to let "this other person" walk by. My curiosity peeked, wondering if one of the "civil war re-enactor" tour guides was heading home. I thought I would jump out and give him a good scare.
I heard the footsteps approaching and I prepared to jump out with my best "shriek" to scare the unsuspecting fellow…. No one walked by!! I saw the mist swirl in front of me, as if "something" had moved by. I did not see anyone or "thing" pass! I felt a cold shiver run through me, and I had no desire to move from my place until I was sure "it" was gone. The footsteps receded off into the distance and I know that I heard a faint laugh as it departed. Whatever "it" was… the joke had been on me.
Many books have been written about all the "Spirits and Hauntings" in Savannah. If you have the time, I can "walk" you for hours around town telling ghost stories and never cover them all. My Ghostwalker Savannah ghost tour will explore some of the most intriguing, but there's just too much for a matter of hours. Something fun to do is to stop by "McDonough's Tavern" late at night after all the tours have run; and sit down and listen to the stories the "Tour Guides" tell of their encounters!
History & Legends
When visiting Savannah, Georgia, a walking tour is one of those things that is on everyone's "To Do" list. Time is your most precious commodity so why not combine several tours into one. Savannah takes on a surreal ambiance in the evening light and that's the best time to experience her History and Legends.
At Ghostwalker Tours I offer that "combination tour" that covers all the bases. As we stroll down the oak tree lined streets draped in Spanish moss, and around the quaint squares, I point out to you the historic homes and architecture. I share with you The Savannah Ghost Story, the history and legends, desecrated cemeteries and haunted battlefields within the historic district.
Hauntings
Where are the Hauntings of Old Savannah, GA? They are all around us. Some are in the most unlikely places you wouldn't even notice. That's why you need a dedicated and experienced Ghostwalker like me to lead you to them on a ghost tour and tell you The Savannah Ghost Story. We have secret cemeteries and burial places our fore fathers have built right on top of all over Old Savannah.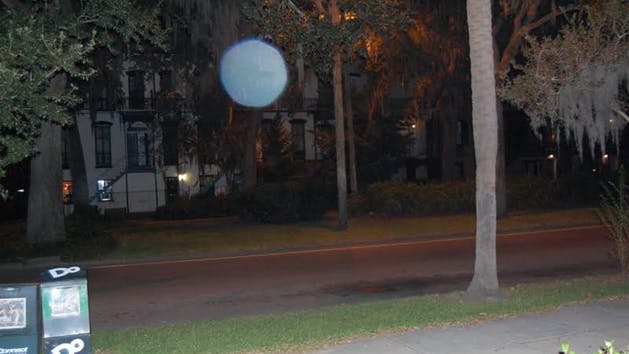 Now if somebody dropped a building on top of your grave wouldn't you feel like letting someone inside of that building know you are there? Residual hauntings is what we call those, and Old Savannah has a lot of them! The Hauntings of Old Savannah will reach out to you. Many have visited Haunted Savannah and "felt" something while visiting these sites. Others have gotten pictures. Now it's your turn to have that experience!
Ghostwalker Tours makes every effort to try and cover as much ground as possible during your two and a half hour tour to help you visit as many of the Hauntings of Old Savannah GA. Together we walk down the Oak tree lined streets, dripping with Spanish moss, and around the beautiful lighted squares at night when the spirits are most active.
One can not help but feel the Hauntings of Old Savannah GA all around you as you pause in front of these old homes; and experience the ambiance and night song in the air. It is a chilling experience to stand at the fence of Colonial Park Cemetery and peer inside and reflect upon the more than 8,700 dead Savannah citizens laying in it's 6 acre's; with only 651 marked graves left standing. Hear the story of why their graves now lay in oblivion. Only Ghostwalker Tours brings the Hauntings of Old Savannah GA "alive"!